Park4d.tv/pleintv kicked off on october 5th, 2007 in Amsterdam, with new works by Floor Meijers, Zhifei Yang, Nicky Zwaan, Doina Kraal, Alberto de Michele, SemÔ Bekirovic, Greg Streak, Kinga Kielczynska & Melanie Bonajo, ookoi, Irina Berger, Sarah Engelhard, Harm van den Dorpel, Peter Vink, Brian McKenna, Katja Mater and Ries Straver, as part of CASZuidas ("Moving Images in Public Spaces", see the pleintv page@CASZ).

Check back regularly here to stay informed on the upcoming additions to the park4d.tv/pleintv collection. Curators are invited to contact us through the contact form, for information on how to obtain the full length (one hour) high resolution versions of the works for "free"* use on their public screen.

Click the images to preview the works.
---
park4d.tv/pleintv movies have no sound, are pure image, loop without repetition, are widescreen 16:9, have little light, are soft, are slow. Or not. If you are interested to contribute, please contact Alberto de Michele.
---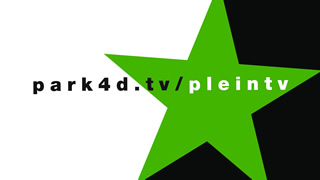 The 32 new park4d.tv/pleintv works were distributed through a open private part of our internet server, and made available to curators, "free"* of rights, for screening on 'Urban Screens' in public spaces. In doing so, they will agree to PARK4DTV's conditions (*do not change, do not sell, leave headers, mail us to complete the agreement*) for use of the works.
Curators! Submit the form in order to obtain details on conditions and how to get access to the "free"* ParkPleinTV movies for use on your Public Screen ...