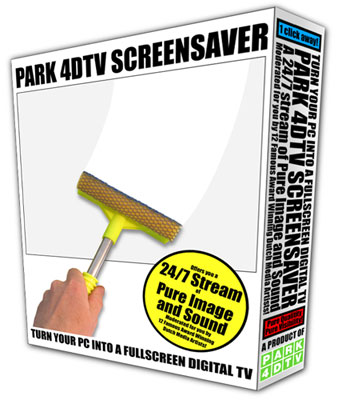 Offers you a 24/7 Stream of Pure Image and Sound
Moderated for you by 12 Famous Award Winning Dutch Media Artists:

Brin, deBa, Dull, Kooij, Mert, deMi, Sche, Seus, Stip, Takk, Terw & Tuin.

download the MAC or the PC version first, and then, if you like, read the licence agreement.


LICENSE AGREEMENT

TO WATCH IS TO STEAL
WATCH THIS STEAL THIS
COPY THIS

You are free to copy and distribute
this zcreenzaver from PARK4D.TV as you like.
Kazaa, Limewire, Torrent, it's all right with us.

(you are not going to tell us you did not download quicktime?!)

Park 4DTV Screensaver for MAC
Park 4DTV Screensaver for PC.

See the webcast section for information about the content.